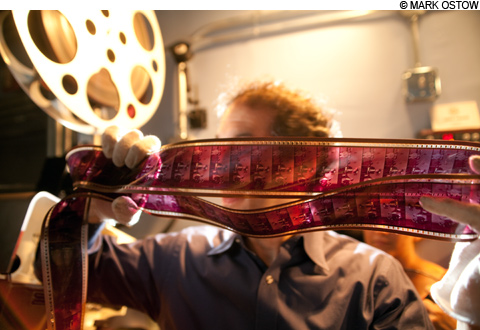 My longest piece to date, and my first outside the Globe. A profile of the Somerville Theatre's head projectionist. Excerpt:
Ian was warning me about David again. As he led me up the back stairs, past a trash can with a length of 35mm film spilling out of it, he reiterated: David didn't want to do this. David can be difficult. Don't take David the wrong way. When we arrived in the cramped, neatly organized projection booth, David took up the mantra himself. Looking up from a Styrofoam bowl of takeout Chinese food, his first words to me were a self-deprecating heads-up: "Ian told you I'm prickly." Then he told me he'd drop a projector on my head if I misquoted him in my article.

Within a couple weeks, he'd invited me into his cramped, neatly organized Somerville home to listen to Sergeant Pepper's on a pair of scavenged movie theater speakers the size of refrigerators. He'd been raving about them; he spent years tracking them down, they were the best speakers. They were in his kitchen. They were six feet from each other and I sat between them on a swivel chair. I listened to "Lovely Rita" and it felt like I could hear the traffic on Abbey Road, molecules of air hitting the studio walls, the sound of George Harrison thinking. And that was even with David standing over me shouting things like, "IS YOUR MIND BLOWN OR WHAT?" every minute or so.